The infamous 4/20 marijuana holiday is quickly approaching and the Mile High City knows how to celebrate in style. Whether you're a local or visitor, plan to stay busy at these smokin' hot 420 events in Colorado, including activities, concerts and more. 
420 marijuana events in Colorado for 2018 are still being finalized. As more events and activities are announced, we will add the information below. 
If you have a 420 event or activity to add to our list, please contact us: info@potguide.com.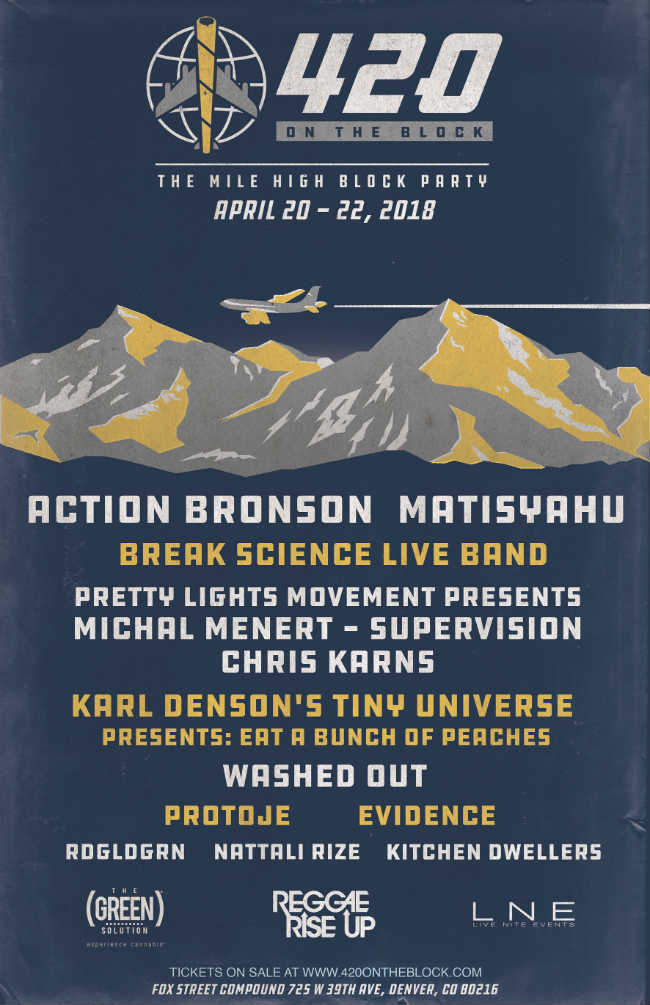 April 20-22, 2018 - Denver, CO
On behalf of our captain and crew, 420 on the Block invites you to embark on an elevated journey, April 20-22nd in Denver, Colorado at the Fox Street Compound.
Expand your mind as you enjoy the comfort of traveling in style. But for your safety, we recommend that you begin immediately and move quickly on purchasing tickets, as the journey will include:
Action Bronson
Matisyahu
Break Science Live Band
Pretty Lights Movement Presents: Michael Menert, Supervision, Chris Karns
Kitchen Dwellers
And many more!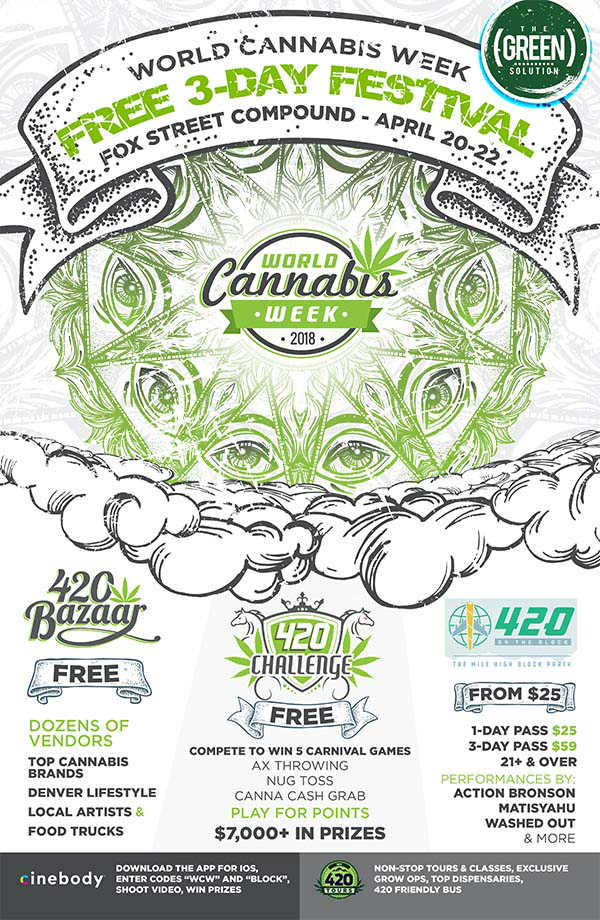 April 20-22, 2018 - Denver, CO
Join us for the ultimate 4/20 weekend in Denver – the 6th annual World Cannabis Week. The city's most lit 4/20 celebration is back for 2018 with a three-day block party tailgating the 420 on the Block music festival.
Three days, one place. Find your way to Fox Street Compound in Denver's RiNo District for a free 420 Bazaar, 420 Challenge and tailgate party outside 420 on the Block. We'll be at the compound on your way inside 420 on the Block music festival.
FREE 420 Challenge - Throw axes, toss nugs and compete to win big
FREE 420 Bazaar - An open-air marketplace of top cannabis brands
420 on the Block - World Cannabis Week is next door with an awesome tailgate party
420 Tours - Nonstop tours and classes offered all 4/20 weekend long
Colorado Cannabis Tours - Denver Hotels, Tours and Classes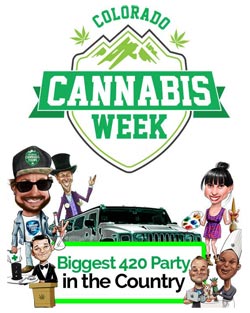 April 18-22, 2018 - Denver, CO
Join Colorado Cannabis Tours for Colorado Cannabis Week to gain access to the best classes and cannabis-themed events that Colorado has to offer! CCW includes world famous cannabis tours, Puff Pass & Paint classes, The Munchie Crawl, cooking classes, infused dinners and much more.
Let Colorado Cannabis Tours help make the booking process easy with the most well-respected, most trusted and best-reviewed cannabis tourism company in Colorado! They'll take care of you from the moment you step off your plane to the time your return home after your Colorado Cannabis Week Celebration!
420-friendly hotels in Denver
Full-package deals available
420-friendly transportation from DIA!
Dispensary and grow tours, Puff Pass & Paint and Cannabis Cooking classes, starting at $59!
VERY limited availability, so book now!